Coeur d'Alene Press | March 23, 2022
By DEVIN WEEKS
www.cdapress.com
Spring Dashers are going to get a kick out of this year's design.
Created by North Idaho College student Aleah Jones, United Way of North Idaho's 40th annual Spring Dash theme harks back to when "bad" meant rad and times were totally tubular: the 1980s.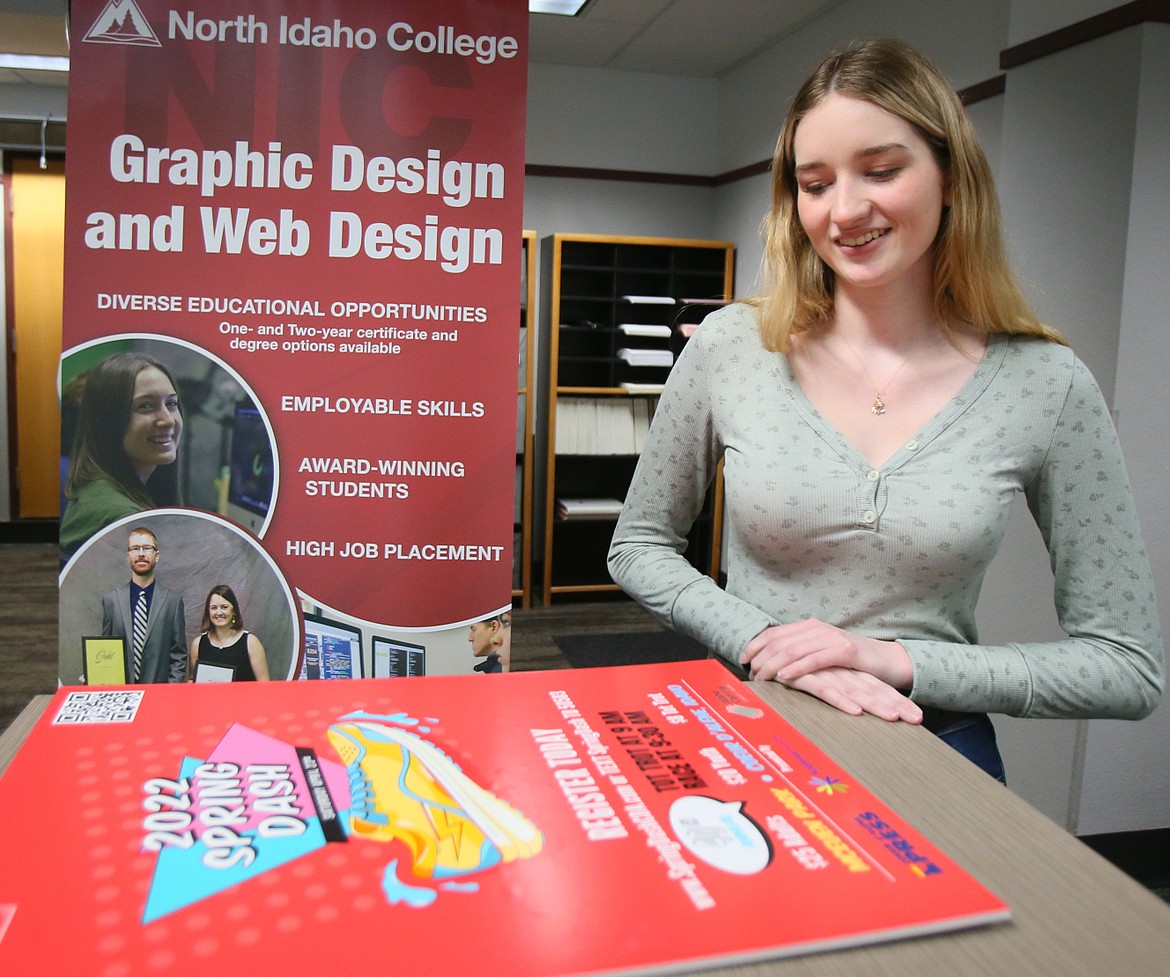 "I was really excited about the theme because they had changed it and they're like, 'It's going to be '80s,'" Jones, 19, said Monday morning. "I was like, 'Oh this is super exciting, I get to do really simple colors,' it was just a really fun idea."
She said she already had an idea of what she wanted to do for the design once the '80s theme had been confirmed. The main design features a bright orange running shoe with a lightning bolt and blue highlights surrounded by playful polka dots, triangles and water splashes enveloped in coral red.
"I really like the geometric shapes, so I incorporated that," Jones said. "Spring Dash, obviously I have to do a sneaker. It all just kind of put itself together. I had a couple reference images I was using just for colors and tones I liked from other artists. Other than that it was pretty set in stone what I wanted to do."
A graduate of Bonners Ferry High School, Jones crafted the design using Adobe Illustrator.
United Way of North Idaho executive director Mark Tucker said Jones not only came up with the design, but she provided related images that can be used on water bottles, as stickers, on shirts, "and she created a web banner that's already on our website.
"She obviously hit the nail on the head," Tucker said. "From a designer's perspective to try and understand what the client wants is a huge challenge, and usually there's a lot of back and forth, but she obviously did her research.
"We looked at it and said, 'That's fantastic,'" he continued. "She's been great to work with as a designer, but also got the essence of Spring Dash and '80s."
Rather than open a contest for public school students to generate the 2022 design, this year's art competition was different.
"They've inched toward being senior class competitions," Tucker said. "We knew that for the 40th year we wanted to do something a little bit more special."
He said it has shifted from "just a piece of artwork that is from a competition to an actual design."
"There's a big difference between art and graphic design," Tucker said. "And this is the design element, which I think is something that will be a lot of fun to use as we promote this."
United Way of North Idaho resource development manager Brittany Teverbaugh was transported back in time upon first review of the design.
"My first thought right when I saw it was it reminded me of 'Saved By the Bell,' and it made me so happy," Teverbaugh said. "She just nailed it perfectly."
Jones' instructor, associate graphic design professor Philippe Valle, said students are interviewed for seats in the selective program.
"We can see students have a passion for design on the first time we meet them," he said. "We could tell (Jones) had some chops."
Jones plans to pursue marketing after she obtains her associate degree in graphic design from NIC. The Spring Dash design is her first digital creation to be selected in a competition.
"There are so many other great graphic designers in this program," she said. "The couple I went up against, they're awesome and some great people."
The 40th annual Spring Dash will be held virtually and in person in downtown Coeur d'Alene on April 23 at 9:30 a.m. with the Tot Trot at 9 a.m. The five-mile run is a benefit to support the ALICE (Asset Limited, Income Constrained, Employed) population in North Idaho.
Visit springdashcda.com for registration info, route and entry prices.