Jack Dyck 
Secretary 
Board Member since: 2016
As he reaches the end of his service on our Board, Jack reflects on his professional journeys, both from local school-teacher to community bank employee, and from the Sandpoint Resource Center to our United Way. While he notes the humbling nature of slow progress, Jack remains inspired by our community's children and a vision of a north Idaho where all kids can reach their full potential. With United Way of North Idaho's transparency, commitment to impact, and listening skills, he believes our work with Early Care and Education will have a long-term impact on north Idaho's children, families, and employers. In true United Way fashion, he recognizes how childhood success is necessarily intertwined with family and community financial stability. We're proud that Jack chooses to #LiveUnited. 
[*The following interview has been edited for clarity and length.] 
What makes you proud to be living in north Idaho? 
I'm proud to live in north Idaho because the beauty of where we live is unparalleled. Also, the values that people have in our community, and in north Idaho in general, are much to my liking—very family-oriented. I think most people I know are honest, they're hardworking, family is very important to them, and that mirrors how my wife and I feel.  
How did you come to connect with our local United Way? How long have you been serving on the Board? 
I've served on the Board for 5 years, coming to the end of my time now. 
Before I retired, we started a nonprofit called the Sandpoint Community Resource Center. We'd found that in Sandpoint we had a large number of people with needs, everything from financial to mental health needs, to survivors of abuse (both men and women), just the whole gamut of people in need. There was a big gap between the prevalence of these needs and the capacity of those in our community who provided services to address them. Even more troubling, we noticed that all too often our service providers who did have capacity weren't connecting with the people who needed them. So, we formed the Resource Center. We went out to all the services in town, created a database and clearinghouse, and got the word out to people that if they had a need they were trying to address but couldn't link up with a service provider to help them, they could come to us and we would make that connection.  
It was quite a daunting task, because as you know nonprofits are a very fluid group of organizations depending on funding and such. There's regular change in who's running the outfits, so it was a challenge to get emails and phone numbers that worked. Something we wanted to make sure of at the Resource Center was that when we referred someone to a service provider, the provider followed through with the services they offered and that the recipient was satisfied so we didn't refer people into a bad or worse situation.  
It took us a while to take off; the first year, I remember seeing two or three people a month, then it gradually grew to 8-10, then 15-20, and then it kind of ballooned up and we received a few grants. We put on quite a few community outreach programs, and we did a symposium every year where we spent time bringing all of Sandpoint's service providers together to try to form a more cohesive group. Around this time, I remembered that before I'd retired, I was involved in giving to United Way, and that we had the ability to direct our contribution to specific organizations if we wanted. We thought it could be a good way to generate some income for the Resource Center, so I got ahold of United Way and began a dialogue. Shortly after Mark Tucker became director, we had the opportunity to come into the office and give a presentation, but what I didn't know at the time was that Mark and the previous Board had decided they wanted to look into expanding from Kootenai county to all five northern counties.  
On our end, at the Resource Center we'd reached a point where we'd been in existence for 4 or 5 years and we needed to get some new blood into the leadership positions. When United Way contacted me about their expansion with an invitation to join the Board, it was good timing to step back and welcome new leadership into the Resource Center. I also knew I could better serve the Sandpoint community by keeping them updated on what was happening on a larger scale.  
Who inspires you in our community? Who are the hand-raisers and game-changers in your life? 
I had two careers: I was an educator for 30 years, and then I retired to work for a community bank, Mountain West Bank, for ten years. For me, my inspiration has always been children and students. Even after I retired, my decision to join the nonprofit community was driven by the need I saw in Sandpoint, having witnessed a lot of dysfunctional situations in my time at the school district. Often these situations were no fault of anyone's, just people who were disconnected from opportunity and finding themselves in financial straits. Seeing kids suffer has always been a heartbreaker for me. I want to make sure they're being given opportunities to be successful, being pushed to their limits, and not being held back by financial issues or family dynamics. 
Equally, being a parent of two kids, the thought of not being able to provide for them is heart-wrenching. So that would be my biggest inspiration; no single person stands out, but my background has consistently been closely involved with kids and still is. 
At UWNI, we work hard to advocate for the ALICE (Asset-Limited, Income-Constrained Employed) population. What did you find most surprising (or sobering!) when you first learned about ALICE? 
The ALICE report confirmed my fears that our community has this population that is literally one emergency away from being in poverty. What was really interesting was when I took the information to human resource directors in our community. They were shocked by the number of their employees that fell into the ALICE population.  
The report made sense to me because at the school district I would see kids and families in that ALICE position. I remember when I was the activities director, we required the students to have insurance. You could get insurance through the school district very cheap, but often kids would come in and couldn't afford it, wouldn't have six dollars or fifteen dollars to buy insurance. I'd see that and kind of connect the dots, and think to myself, "Well, the parents must have had something happen with their jobs..." So, it wasn't surprising, but it was still gut-wrenching to know that 44% of our community was within the ALICE threshold or below. Emergencies happen through nobody's fault, so that is really scary to me and continues to be so.  
In fact, we're working with Brittany, the new Resource Development Manager, to put together an article about it to put in the Bonner Daily Bee, because much of our community still doesn't understand ALICE. If we can raise awareness and do something to provide a cushion for those folks... A large number of them are related to childcare, so if we can provide some sort of relief around child care and child care costs, I think that's going to be the most effective way we can lend a hand up to some of these people in that position. If you've seen the ALICE report, you'll know that in our community, two kids in childcare costs around $1210 dollars a month. If you can relieve that for some families, that's a game-changer for sure.  
Those are the things that have been really sobering for me with the ALICE report, but it's great information to have because now it gives us something to go to people and say, "You need to help. You need to give and you need to help your community, and if you just give a little bit you can make a big difference in people's lives." 
Talking about finances can be uncomfortable and is often a taboo topic. If you're willing to be brave and get vulnerable with me, would you help us break the stigma? Tell us about a time where you experienced financial instability. What is the most important lesson you've learned about building financial stability?  
My wife and I, we've been blessed, but when I was an educator, my wife worked for the State of Idaho with the Department of Labor and we had two kids. I can remember at the end of the month she would say, "How are we doing financially?" and I would say, "Oh, we're doing great, we have .12 cents in our checking account," and we'd look at each other and go, "How is that possible?" We both had what I think most people would say were good jobs. We lived very frugally. While we didn't miss meals and such, I would always think, "Gosh, we are who we are and we're barely getting by. What about people who don't have jobs as good as ours?" I think for us that was a real interesting point. It caused us to be more aware of our expenditures and try to plan for our kids and begin to look at saving and retirement and such.  
For the rest of our community, I think it's very scary to see how many people are in service jobs. Also, what's happening now which is really scary and unnerving and I don't like it is home prices have gone so out of whack. For example, my daughter is an elementary school counselor and her fiancé is the IT director for the Kennewick school district, again, both pretty good-paying, solid, stable jobs. When she was looking at maybe moving back to Sandpoint, she told me, "Dad, there's no way, we can't afford to live there." So then you think about those service jobs, even a $15 an hour job—you can have two people working and still not afford to move into town. We're in a predicament where our community's changing from a real blue-collar, hard-working community to a tourist community. I'm afraid we're going to go the route of Jackson Hole, where you can't afford to buy a house in town. That's going to change our school districts, if people are living in Priest River, Bonner's Ferry, and Spirit Lake and commuting to Sandpoint to work. I never thought we would be a location like that, because when we first moved to Sandpoint in 1992, a lot of people lived in Sandpoint and commuted to Coeur d'Alene for work. So that part's changing for us, and I'm not sure how it's going to play out in the long-run. It's going to be interesting to see as these industries continue to grow, where people are going to be able to live that have entry-level jobs and aren't in the upper echelon of the pay scale.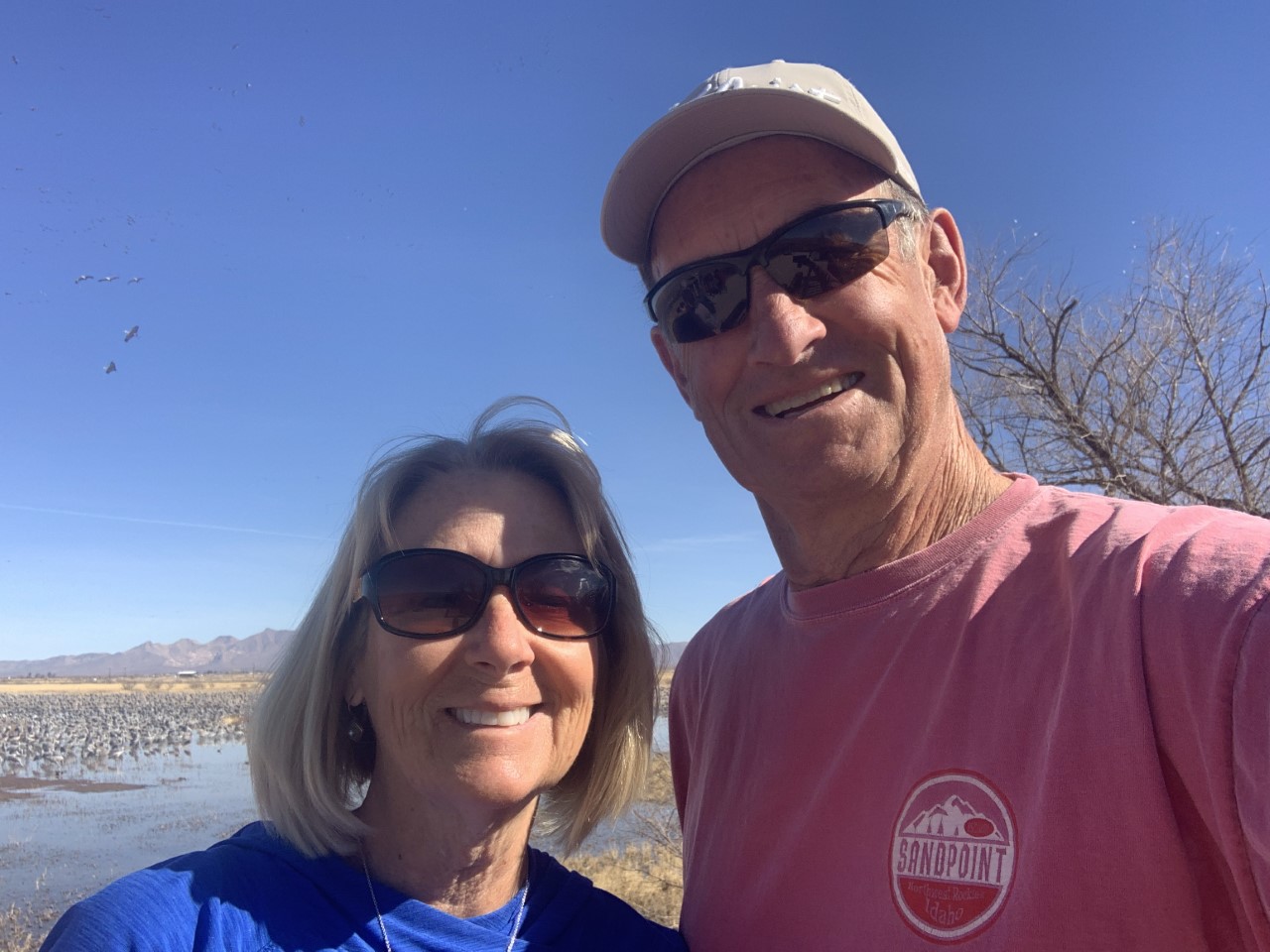 Which financial stability projects and partnerships are you most proud of at UWNI?  
I really am excited about the work Keri Cederquist is doing with child care. Practically speaking, if we look at how can we affect our ALICE population and those experiencing poverty in a positive way, it's going to be through child care. The ALICE report does a great job of sharing an average, bare-bones budget for a 4-person household. When we look at that budget and ask, "Well, what can we do?", we can't increase their income by $1200 a month, but how can we stretch their income or make their expenses less impactful? Childcare is the answer for sure, no question about it.  
We've spoken with our community about the possibility of bigger companies participating in a business-supported child care initiative, something to give childcare relief and get trained people so it's quality childcare but not as expensive for people. If we can do that, then we've made the most positive impact on our community that we can. I think it's possible for us to make it happen. I know when I worked for the bank one of the things we learned as administrators was that when I lost an employee it cost me one and a half times their annual salary to replace them, and that's pretty much a standard number across all industries when you lose a good solid employee who's been with you for more than a year. It's cost-saving to businesses if they can keep their current employees in place. So, if we can keep employees more stable so they can stay with employers for a longer period of time, not only is it good for our ALICE population, it also seems like a good sales pitch to go to the companies and say you're going to want to participate in this. Even if it's underwriting employees' childcare costs for a few hundred dollars a month by collaborating with other businesses to create a joint location and sharing costs, it makes sense for them to do it. To me, that's the most exciting thing for us in our community. We kind of watch Keri go and see what she's done and try to take it to our community as well, and it excites me because I think it's something where we could actually have a reasonably positive effect on a long-term basis, too, not just short-term. 
There's a popular saying circulating in the nonprofit/helping community: "Nothing for us, without us." How does United Way model this ethos in its work towards our community's financial stability? 
I think the fact that United Way listens to our communities and tries to identify where the needs in those communities are, and then creates programs to lend a hand in those areas, versus coming in and saying, "This is what we do, make it fit in your community." I've seen that happen in Priest River, Sandpoint, and definitely in Coeur d'Alene. For example, with the early childhood education initiatives, when I came on the board we already had the Panhandle Alliance for Education in Sandpoint and we didn't want to compete with them. So, we changed our focus in Sandpoint to different areas where we felt we had greater need. I think that United Way of North Idaho listens to the community and then tries to effect positive change in the areas where the community has said, "We need help here." 
What does it mean to you to Live United? 
I think to Live United means being willing to not only model the values of the United Way but also to be proactive in our community in trying to help people who are less fortunate. I think that's the one thing we want to try to do in north Idaho:  to lend a hand to people to help them have health, education, and financial stability. These are things we believe all people should have.  
For me, being involved in United Way and being involved in the Resource Center in Sandpoint is my way of trying to lend a hand to people and not just say, "Here's a thousand bucks, now go..." It's trying to create long-term solutions to the problems in our community, and that's what United Way does so well. I think the credibility United Way has been able to maintain in terms of being 5-star transparent on everything that we do, making sure that we have the ability for people to feel comfortable helping us Live United by feeling good about contributing to United Way, has been really helpful.  
It's been a hard sell to get United Way into Sandpoint. When I joined the team I thought, "Oh, I'll just knock this out in a year, it'll be great and we'll be done." Now it's been 5 long, hard years and I've been dissatisfied with my progress, but we're getting there. We've had some really successful Days of Caring, and we've got a few big employers on board. We're making progress, it's just harder than I had anticipated, breaking in. Of course, we've had some really weird last three years in Sandpoint. We lost a major employer that went under and it was devastating for our community. We had some financial issues community-wide and then this year's been a hot mess with everything, it's just been the weirdest year ever, but we're going to keep our heads down and keep working at it, and we'll get there eventually.